Zoom Artist's Reception: Pandemic Portraiture: Reflections of Healing
September 15, 2022 @ 7:00 pm

-

8:00 pm

Free
Pandemic Portraiture: Reflections of Healing
Virtual Artist's Reception
Thursday, September 15th 2022
7-8pm via Zoom
Free; Registration required
You're invited to attend a Free Virtual Artist's Reception for Pandemic Portraiture: Reflections of Healing, an art program taught by ShawnaLee Waterbury-Kwashnak for CT youth that was generously supported with a Connecticut Art Grant "with the support of the Department of Economic and Community Development, Office of the Arts, which also receives support from the National Endowment for the Arts, a federal agency." The program will culminate into a published book of historical significance that will be donated to a historical museum.
The Virtual reception will highlight the student's accomplishments for reflecting on what healing was, is and could look like as we all navigate our way out of a worldwide covid-19 pandemic. Grant participants were expertly guided through the portraiture process as they document their observations of the changes in people in their lives due to the covid-19 pandemic. Students worked during class and Independently towards documenting their ideas and thoughts. Art classes were a mix of demonstration, sharing progress, rich artistic discussions and positive support.
The students learned about art materials, basic artist skills and then progressed to learning how to create a portrait. Students learned and practice drawing skills, were provided with art materials selected for success of learning, and were welcomed to discuss/think about the pandemic, as well as discover what healing is and could look like. Students were gently challenged to create a finished portrait that reflects the healing that has helped their subject(s) through the jarring disruption of our unprecedented worldwide pandemic. There was no cost to participate. The project culminates in original works of finished art that will be shown virtually, published on a website & book, and shown in a virtual artists reception open to the public with artists, guests, family, and community invited to attend. Each student will receive an important certificate of participation that may be used towards scholarship and college applications.
Participating Connecticut Youth Artists include:
Elsie Towill
Emma F. Ojeda
Gabriella Berardis
Nina Petrenko
Ryan Saplio
SiYi Robifker
Anna Kwashnak
Audrey Finn
Maddy O'Rourke
This program was an exceptional opportunity for youth to process and respond to the social dynamics of our pandemic as well as providing a purpose that becomes historical in nature. This program may be listed for college and scholarship applications for participants.
A Zoom link to the reception will be sent via email three hours before the event begins. For the safety of our CT youth, please do not share the link. Multiple people in your home may participate.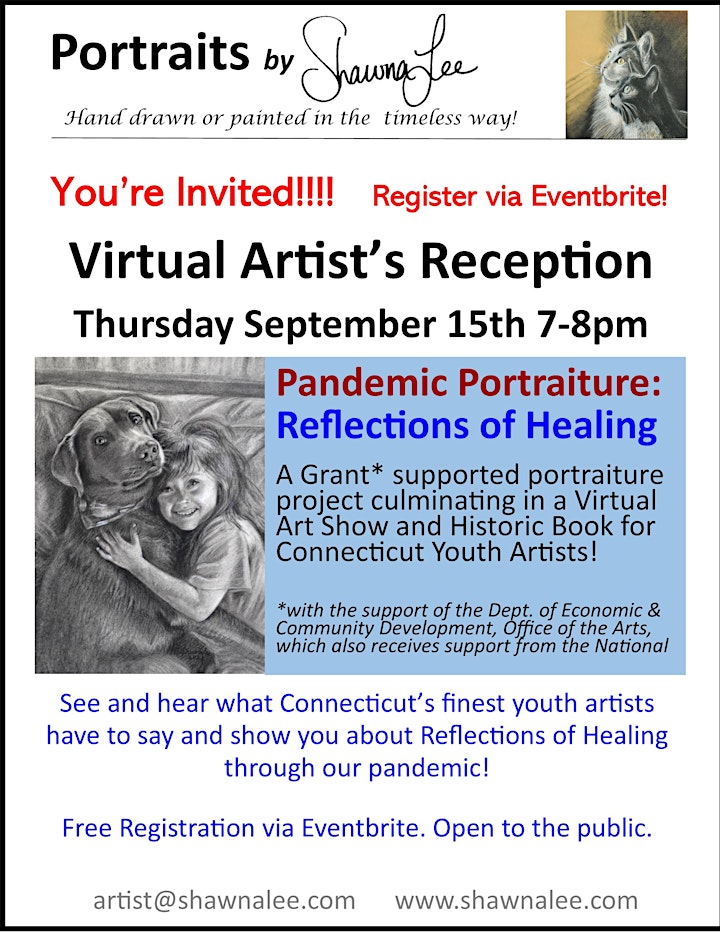 Related Events